The report in Jerusalem's old city by Israel's Channel 13 comes amid a spike in anti-Christian hate crimes in the country.
An Israeli journalist was derided and spat at, including by a child and a soldier, as he spent a day dressed as a priest in Jerusalem to investigate spiralling hate crimes against Christians in the city.
Donning a brown priest's robe, Channel 13's Yossi Eli was spat at just five minutes after setting out with a
Franciscan
 clergyman, Father Alberto.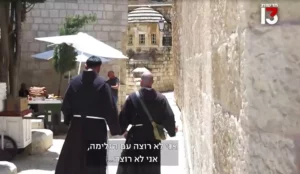 A bit later a man mocked them in Hebrew, saying, "Forgive me father for I have sinned." Then an 8-year-old spat at them, as did a soldier when a group of troops passed by later.
This is not the first time that soldiers have been caught committing hate crimes against Christians in Jerusalem. In November, troops from the Givati infantry brigade spat at the Armenian archbishop during a procession. They were later disciplined by the army.
Channel 13's report comes as attacks against Christians in Jerusalem – spanning from vandalism of grave sites to physical assaults – have been spiking, with the police reluctant to track down perpetrators.
In his first interview with Israeli TV, the Vatican's custodian of the Holy Land, Father Francesco Patton, blamed Israel's politicians, arguing that the wave of attacks began "when the political language became more violent."
He mentioned the desecration of a Lutheran cemetery, the vandalizing of a Maronite prayer room and the spraying of "death to Christians" on Armenian property, all in the space of weeks. He also noted "the responsibility of the leaders, of those who have power."
Channel 13 drew on several recent incidents, including the desecration of 33 graves in the Protestant cemetery on Mount Zion. Two teenagers have been indicted.
Channel 13 also spoke to Armenian clergyman Father Gurion, who was assaulted by a group of Jews in the Old City – and was then detained by the police. First arriving in Israel in 1996, Gurion said there have always hate crimes, but the situation has deteriorated.
Without punishment, he said, "They feel that anything is permissible," adding that people have urinated on holy sites and even filmed themselves doing so.
This article was published in Haaretz on June 26 2023.
https://www.haaretz.com/israel-news/2023-06-26/ty-article/.premium/israeli-reporter-goes-undercover-as-priest-and-gets-spat-at/00000188-f775-d6ce-abb9-f77780680000?mibextid=Zxz2cZ